English
Annie Darmon
Singer | Songwriter | Guitarist Sephardic | Folk | Love Songs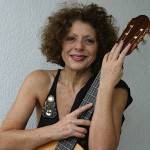 The phenomenal voice of singer/guitarist Annie Darmon makes every performance a transformative experience. Her phenomenal five octave voice swings from the bass to the treble notes like an acrobat, with stunning ease. She beckons her audience playfully into her own musical world.
And what a world it is! Her repertoire is based in a Sephardic Judeo-Spanish tradition, with folk songs, Jewish liturgical and ceremonial songs and classic love poems. But Ms. Darmon ventures far outside of the boundaries of tradition with her renditions of songs ranging from Schubert's "Ave Maria" to the Elvis Presley classic "Love Me Tender," as well as classic Sephardic songs ("Adio querida") reworked into transcendent English versions ("How much love do you need?")
Annie Darmon's voice is a one-of-a-kind experience, expressing a full range of deep emotions: joy and despair, violence and tenderness, anger and wonder. With her incredible ability to sing in numerous languages—including Yiddish, English, French, and Ladino—she has a truly international appeal.
Ms. Darmon lives in Paris and has performed in numerous venues throughout France, most notably Notre Dame Cathedral and Saint Chapelle. Internationally, she has found rave critical and audience praise during tours to New York and the Southwest United States, Israel, Brazil and the Czech Republic. She also sang for the visit of Pope John Paul II in 1997 at the Hippodrome de Longchamp.
U.S.
Kat Georgesc/o Three Rooms Press Productions
New York, NY, USA
(212) 731.0574
info@threeroomspress.com
Europe/Asia/Africa
Annie Darmon
Paris, FR
(331) 40.60.1504
annie.darmon@numericable.fr